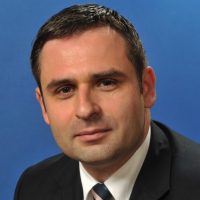 Microsoft Regional Director | Genisoft, HTSS
La aproape douăzeci de ani de la primul său contact cu domeniul Machine Learning, Ciprian se regăsește în mijlocul unei transformări fundamentale a industriei IT catalizată de acest set de tehnologii sofisticate. Dezvoltarea explozivă a cloud computing-ului alimentează tendința de a include din ce în ce mai multă inteligență în platformele IT moderne. În doar câțiva ani, soluțiile de Machine Learning livrate prin intermediul cloud computing-ului au devenit o tehnologie răspândită, disponibilă într-un mod din ce în ce mai facil. Fie că este vorba despre creșterea vânzărilor prin înțelegerea mai bună a comportamentului clienților, reducerea costurilor prin predicția defectelor și incidentelor sau creșterea nivelului de acuratețe în diagnosticul medical, munca lui Ciprian în domeniul Machine Learning ajută oamenii să-și desfășoare activitatea într-un mod mai rapid și mai inteligent.
Ciprian participă în prestigiosul program Microsoft Regional Directors. El este de asemenea și primul Most Valuable Professional pentru Inteligență Artificială din România și un adept al quantum computing-ului.
Ciprian este General Manager al Genisoft și CTO al High-Tech Systems & Software.
customerium.ai – Real time customer segmentation, analysis, and engagement
Ever wondered how far can you take the power of the cloud data platform to build advanced business solutions? Join us in this session to learn about our story of building customerium.ai, one of the most advanced and powerful customer segmentation, analysis, and engagement platforms available today. We'll talk about the Azure data platform services we used, about our experience with them throughout the entire journey, and we'll provide several real-life examples on how they work together. The session will help you gain a better understanding of the challenges and advantages of using the Azure Data Platform to build state-of-the-art business solutions.
Participarea este gratuită, în baza înregistrării prealabile